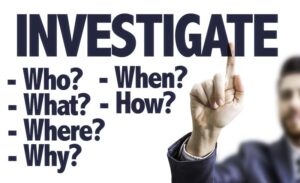 I have put together some information below that should explain the process.
You would be the owner of your Private Investigator company and I have no financial interest in your company. I am only listed as your QM. My job is to get your PI license and teach you everything you need to know to run and market yourself as a PI. Once you have obtained your 3 years of full-time experience, I can sign off on your hours and you get authorization to take the PI test. Upon successfully passing the PI test, you will replace me as your own QM.
Currently the process of obtaining a PI license is taking about 4 months once the necessary paperwork is submitted to the state. Although you are not allowed to work as a PI during that time, we can start on the training to get you ready for when you do receive your PI license. All of the training I provide can be done remotely and will cover pre-employment backgrounds, skip tracing (locates), surveillance and other investigative services. Once you obtain your PI license, I will assist with getting you connected to the various databases most frequently used by PIs as well as getting you set up with access to DMV records. Once the state issues your PI License and listing me as your QM, you are able to start working and making money as a PI. 
Once you are a licensed PI, you typically can charge $100 – $150 an hour for surveillance and a flat rate for other services. I can help you with how to present yourself to other PI's to do subcontract work and have access to their posts for help. Most PI's make $45 – $50 per hour doing subcontract work conducting surveillance and is a great way to help supplement your income as you are growing your business.
I charge an upfront fee to get the process started and a monthly fee for the 36 months. Before the paperwork process begins, you will need to determine if you will be doing business as a sole-proprietorship or a corporation. As a sole-proprietor, you can either just use your name or get a DBA. If you think you will eventually do business as a corporation, I suggest starting that way to begin with as the state will make you get a new license for the new corporation if you first obtain your PI license number as a sole-proprietor. Check with an attorney or CPA to decide which is best for your specific needs.
If you would like to discuss the costs, please contact me directly to discuss. You can click the contact button above or give me a call at 818-717-9100.
Todd Taylor – President